We know that you like the analysis of terminals, especially when we speak of devices with good performance and reasonable prices, so this Infiniton N7 Today we present safe that will delight many of our readers.
We are before a smartphone that, for better and for worse, is a twin brother of the Oppo N1. With this, their strengths and also the weakest already you them can imagine, although everything revolves – literally – around your Rotary camera up to 207 degrees with dual LED flash.
At first glance, almost everyone would affirm that this N7 was born in the same factories of Oppo, because as you will see later the overall quality of the device is beyond doubt, both in construction and in its possibilities, identical to the Oppo terminal although obviously lowering performance hardware.
Infiniton may be quite happy to have brought a terminal as attractive as this to our market, above all if we look the price that will come, only 249 EUR. If reading this already you ask you when you will be available, because it will do so imminently, before the end of this month of October.
Design
We are not going to fool anyone, because the design is perhaps the most contentious part of the device, too large with its x 79.1 153.6 mm for a display with a diagonal of 5.5 inches, marred in part by huge frames that surround it.
However, we have to stay only with this, since the device is well finished in general terms, with good touch and a strange sensation in his hand, as though its fine thickness of only 6.8 mm Otherwise just given the size, the N7 Infiniton feels quite robust.
Is manufactured in plastic materials, This fact is evident if we consider its price, but the choice is fairly successful, with a matte finish that repels stains of fat fingers and a few frames of chrome style that look reasonably well.
On the side we will not find anything other than physical buttons of the terminal, well positioned for ergonomics in a more central position. In the bottom frame is the microUSB port 2.0 and audio jack of 3.5 mm, both standard, while the upper part has been reserved for the rotating camera mechanism.
The back cover can be removed to access the battery and the slot, in this case a dual SIM (microSIM + SIM) and a microSD memory card reader. This lid is flexible enough to ensure its resistance, and indeed is an important element, as It contains the NFC chip and rear touch sensor "Rear Touch", It will facilitate the handling of the device.
As a positive note, Infiniton N7 not wasted all their frames, since the main keypad of the operating system is capacitive in the bottom frame, so at least not have to share the 5.5 inch panel with a virtual keypad.
To synthesize the information which I have given, it should be summarized that we we have a terminal very large cut, especially if we take into account the use of the front for the screen, but its finishes are well cared for a price of 249 euro that still it is still us incredible.
See complete gallery» Infiniton N7, design (24 photos)
Screen and hardware
The screen of a smartphone is your ticket to success or failure, because it depends mostly on the user experience. In this case we believe that Infiniton has successful riding a Panel manufactured with IPS technology, as we have already mentioned becomes a diagonal of 5.5 inch.
Is not acceptable today, in the era "retina", which will be able to distinguish a smarpthone Panel, and with a screen of 5.5 pixels inches the logical thing was to not download from the HD resolution 720 p, which leaves the density in a acceptable 267 pixels per inch.
Since sharpness will not be a problem, we go to the representation of color, brightness and its viewing angles: firstly and in terms of colors, the answer is perfect, we did not expect less than an IPS, although it obviously is a less showy than Samsung's AMOLED.
So closely looks the IPS panel of 5.5 inches and HD resolution 720 p Infiniton N7
The brightness level is acceptable and its Auto-adjust fast enough. If we talk about vision outdoors, say that you can use without problems device, although the quality is too low.
Perhaps this last aspect has been penalized by the screen saver included placed factory, as this reflects much light making the viewing angles also be deficient in illuminated environments.
Now leaving aside the screen that fulfills its mission solvent way, talk now of a hardware platform that we have seen very capable. However, begin first by cold data, because we know that the specifications table It is perhaps the most searched at the time of be interested in a terminal:
| | Infiniton N7, specifications |
| --- | --- |
| Physical dimensions | 153.6 x 79.1 x 6.8 mm-grams |
| Screen | HD IPS 5.5 inch One Glass Solution |
| Resolution | HD 1280 x 720 pixels, 267 DPI |
| Processor | MediaTek MT6591 Hexa Core Cortex-A7 @ 1.6 GHz; 28nm |
| Graphics processor | ARM Mali-450 MP4 |
| RAM | 2 GB |
| Memory | 16 GB + microSD up to 64 GB |
| Version | Android 4.4.2 KitKat |
| Connectivity | HSPA + 21.1/7.6 MbpsWireless 802.11a/b/g/n 2.4 GHzNFCaGPSBluetooth 4.0FM radio |
| Cameras | Rotary 207 degrees. Sensor CMOS Sony 13 MP with f/2.0 aperture, autofocus and dual LED flash. FullHD video at 30 fps. Advanced software features |
| Battery | 2,400 mAh, Li-ion battery |
| Access to Google Play | Yes, series |
| Starting price | 249 EUR |
| Other data | Port of loading and synchronization microUSB 2.0Dual SIM (SIM+microSIM)Capacitive keyboardRear touch sensor "Rear Touch" |
As you may have already seen, the N7 Infiniton is a well equipped device for every day, with a balanced hardware platform that allows us to use the way in almost every circumstance terminal.
Must not be tricked by the source its chipset MediaTek, as the MT6591 has a six-core processor which operate at a speed of 1.6 GHz, and will be accompanied in this case by a 2 GB RAM memory and a GPU ARM Mali-450 MP4.
We will not stop us too much here, because we leave the comments about your power to the next section. Yes, we want to emphasize that the N7 has shown plenty for our routine use, even playing some of the titles they need enough power graphics, so this section has been resolved by Infiniton.
As for the rest of the specifications, as they are the usual ones, with 16 GB expandable internal storage with microSD cards of up to 64 GB and the usual battery of sensors that accompany any devices of last generation, with the only notable fall of LTE connectivity and connectivity.
Thus, we find full connectivity to HSPA + with support for two SIM cards, WiFi 802.11a/b/g/n, Bluetooth 4.0, aGPS, NFC and FM radio.
One of the notes of color camera, which we will discuss later and has put it with a 13 megapixel Sony sensor with dual LED flash and autofocus, colocada placed on a Rotary head that can rotate up to 207 degrees to become a front-facing camera or easily take screenshots from other angles.
Another stroke becomes in charge of the mentioned "Rear Touch" rear touch sensor, a small square panel that recognizes presses and gestures in the back cover, and that it will facilitate the use of a device that is not overly comfortable to use because of its size,.
This panel can be configured to respond to the "double click" as you want, and can be used to navigate between desktops, to move the scroll up or down in settings menus or the Web browser, to shoot the camera for many other applications that can be found in the day-by-day.
Is not essential but useful, especially in devices of big size, although initially it is hard to get used to is there, generating pulses or unwanted movement to seize the device. Even with this, it is an innovation that brought its N1 Oppo and we appreciate as such.
Performance and autonomy
We have not excessive emphasis on performance in the previous section, which we have left on purpose for data with intention to now talk about power, general operation and autonomy.
We are one of the key points, especially in devices of china-made and adjusted price, because the customer tends to doubt the quality of operation of this type of Terminal. However, We can only speak well of the N7 Infiniton, that shown solvent in all situations.
Moving Android 4.4 KitKat have not noticed lag in transitions or returning to the desktop, and the system is smooth and pleasant to use. We have already highlighted it on several occasions, but for the daily use of either is a solvent device.
The MediaTek chipset is not lacking in power, either in process or in the graphical part in charge of Mali-450, and 2 GB of RAM are a point in favor of a device that keeps the price low.
Not always cold data give an idea of how you can render a device, but as we know that I tend to like the compare, because here you have the results of the N7 Infiniton in our wheel of recognition:
| | Infiniton N7, performance |
| --- | --- |
| AnTuTu | Standard:-pointsAntutu 26.654 X: |
| Quadrant | 8.622 points |
| 3DMark | Ice Storm @720p v1.2: 6.397 IS Extreme @1080p v1.2: 4.453 Unlimited v1.2: 6,312 |
| EPIC Citadel@1. 280x720px | High Performance: 56.7 FPS High Quality: 57.2 FPS |
| BenchmarkPI | 302 milliseconds |
| Vellamo | HTML5: 2.141Metal: 867Multicore: 1.270 |
See complete gallery» Infiniton N7, benchmarks (22 photos)
Away from his power, the N7 Infiniton is a good phone in its basic functions, and saved the detail not to include LTE, his response in connectivity is good, not loosing on the best of the Android platform.
As phone also behaves well on calls, with good volume and keeping the noise at acceptable levels. That Yes, the main speaker is placed in the rear, so leave the terminal on a flat surface will worsen obviously the assessment of sound.
Speaking of autonomy it seems that we repeat always, but it is that most manufacturers focus already directly to offer a day of continued use, ignoring that this aspect is always a negative point of any smartphone.
In spite of this, we have to talk a positive response in terms of autonomy, because ignoring the rest of charge cycles, yes we have seen that it can be used in normal use the N7 two days arriving still with 34% of battery after 39 hours away from the charger.
Let us summarize the analyzed so far in that We cannot ask more than 249 EUR, because the terminal is well compensated and, at the moment, we have not reached yet to their differentiating section, coming just below.
Camera
And so far have come at last, because the camera is the strongest of the N7 Infiniton point, turning – pun – around a CMOS sensor backlit, Sony origin with 13 megapixel resolution and aperture f/2.0.
This sensor features auto-focus, and is mounted above a head that turns 207 degrees to allow screenshots from different positions. A turntable that also contains a dual-LED flash and structure, on the opposing party, the speaker's calls and the proximity and light sensors.
Left: Without HDR; Right: On the HDR; Top: 100% extension
Capture with HDR, advanced software features and, above all, a good response from the camera application to the sensor turned, then takes orient themselves automatically as you turn the camera.
All this, coupled with the ability to shoot the photo touching the rear panel, makes that we can take more artistic liberties when it comes to taking photographs, that you have very good quality in almost any situation.
Results of high quality, above all with HDR to compensate the lighting differences as you can see in the above image can be achieved with good lighting. However, low lighting also get good shots with a noise within acceptable levels.
We understand that it is basic to see examples, so we leave you with a Gallery of images taken with the N7 Infiniton in different situations and not retouched in any way, actual size as the device saves them:
See complete gallery» Infiniton N7, camera pictures (10 pictures)
Software
It is not a secret that we don't like about Android customizations that make most of the manufacturers, especially when not contribute nothing new to the whole.
In this case, 4.4.2 KitKat Android arrives masked aesthetic, but fortunately little modified and maintaining the essence.
Infiniton has integrated an application a bit more advanced camera, and any use as a recorder of sounds or flashlight, but in general the Android experience will not be lost too by the way.
Sí some functional details have been integrated, as the Manager multitasking, which inform the free and used memory close applications, in addition to the settings needed to configure the "Rear control".
As you can see in the gallery below, rather an aesthetic touch to a deep customization, we hope to help the manufacturer to keep your updates stand MediaTek permitting.
See complete gallery» Infiniton N7, software (7 photos)
Infiniton N7, Xataka Android view
The conclusion of the analysis of the N7 Infiniton is more than positive, and in fact we felt it surprising that the manufacturer is able to bring it to our markets at the price of €249.
It is evident that it is not the best smartphone on the market, but it is a terminal compensated in all its aspects, also adds some innovation and attractive with the rotating camera and rear touch sensor.
We must talk about that of a huge terminal, size phablet but with spirit of conventional smartphone, which does not take advantage too well its size despite being light in hand and with a very thin thickness.
Its materials are not very noble, but the finish is well resolved, and as you have seen, if they could ensure us that the very same Oppo manufactures it myself I would say that it is very possible.
In general, it is a terminal of good Bill, with character and solvent power, but without the fanfare of a superclass. That Yes, in price/performance you won't rival for those who want an attractive and innovative device priced content.
In favour
Innovative and with possibilities
Great camera
Price/performance ratio
Against
Excessively large
Uncertain update support
The phone has been granted for tests by MegaEXIT. You can consult our policy of relations with companies
Gallery
Infiniton N7, software (6/7)
Source: www.xatakandroid.com
Infiniton N7, benchmarks (3/22)
Source: www.xatakandroid.com
Infiniton N7+
Source: cincopreguntas.com
Infiniton N7, software (4/7)
Source: www.xatakandroid.com
Foto de Infiniton N7, benchmarks (22/22)
Source: www.xatakandroid.com
Foto de Infiniton N7, benchmarks (2/22)
Source: www.xatakandroid.com
Infiniton N7, análisis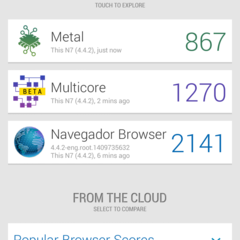 Source: www.xatakandroid.com
INFINITON
Source: www.armanax.com
Foto de Infiniton N7, software (1/7)
Source: www.xatakandroid.com
Foto de Infiniton N7, diseño (9/24)
Source: www.xatakandroid.com
Vendo teléfono Infiniton N7 prácticamente nuevo y libre …
Source: es.wallapop.com
Infiniton N7, cámara de fotos (2/10)
Source: www.xatakandroid.com
Foto de Infiniton N7, diseño (20/24)
Source: www.xatakandroid.com
cambio infiniton n7
Source: es.wallapop.com
INFINITON
Source: www.armanax.com
INFINITON
Source: www.armanax.com
Infiniton N7, diseño (19/24)
Source: www.xatakandroid.com
Funda Plastico Infiniton Para Infiniton N7 P Tran
Source: www.latiendadirecta.es
INFINITON
Source: www.armanax.com
Smartphones Infiniton
Source: www.fotovega.com